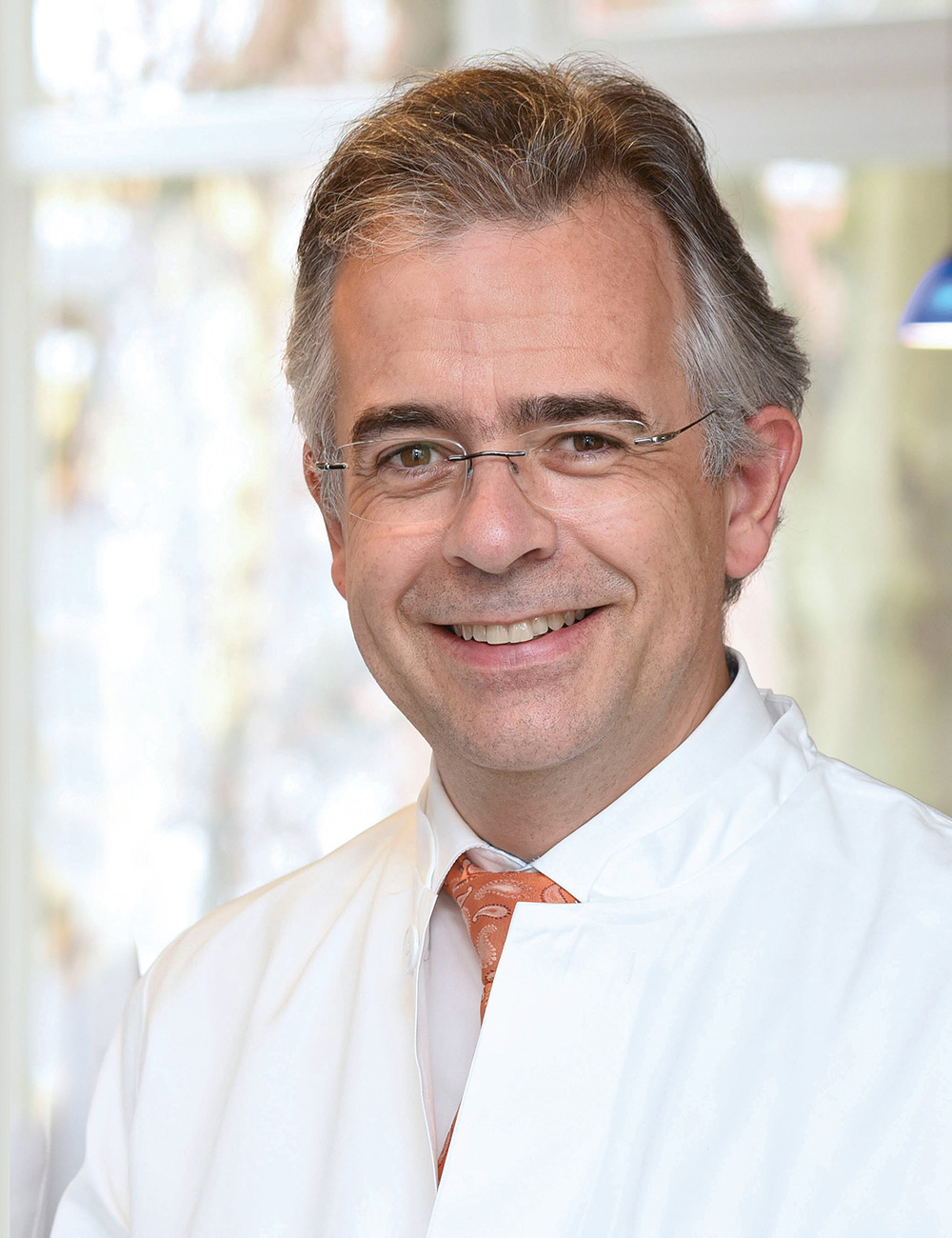 Dr. med Konrad Scheuerer
Orthopaedic surgeon, trauma surgeon
Surgical specialisation
Arthroplasty of the hip, knee and shoulder
Total joint revision surgery
Foot surgery
Knee surgery
Shoulder surgery
Hand surgery
Accident surgery
Additional qualifications / licences
Senior surgeon and director at the maximum care arthroplasty centre at the Wolfart Clinic
Sports medicine
Chiropractic
Physical therapy
Skeletal X-ray diagnosis
Ultrasound of the musculoskeletal system
Sonography of the infant hip
Arthroscopy
Inpatient and outpatient surgical procedures
Doctor with admitting privileges at the Wolfart Clinic
Memberships
After completing his Abitur (A-levels) in Munich, he studied music in Stuttgart from 1982 – 1985. He subsequently studied human medicine at the Technical University of Munich. In 1993 he was awarded a doctorate in medicine for his thesis on the topic of differential diagnosis of paediatric hip pain in MR tomography [Beitrag zur Differentialdiagnose des kindlichen Hüftschmerzes in der MR-Tomographie].
In 1997 he qualified as an orthopaedic specialist, after completing his internship at the department of orthopaedics and traumatology at the Red Cross hospital in Munich.
He was then employed as a senior doctor at the department of orthopaedics at the Red Cross hospital in Munich until he joined the external physician department of orthopaedics and joint replacement at the Wolfart Clinic in Gräfelfing in 1998, together with Dr. Kipping.
During the course of advanced training he qualified as a medical specialist in orthopaedic and accident surgery with additional certification in sports medicine, physical therapy, chiropractic and skeletal radiology. He attended numerous advanced training courses in the USA and in Switzerland.
Dr. Scheuerer serves in an expert capacity for the Social Court of Munich/Landshut (Sozialgericht München, Landshut) and the Bavarian Higher Social Court (Bayerische Landessozialgericht) as well as for the Administrative Court in Munich (Bayerische Verwaltungsgericht München Bavarian). He is a member of various professional societies.
Dr. Scheuerer performs around 700 surgical procedures in the field of orthopaedics and traumatology annually. To date, he has implanted approx. 10,000 artificial joints.